In 1999 I was commissioned to restore a very rare early Ming copper red Guan Baluster Jar. Shortly afterwards I was asked by Christies HK to restore a similar Jar but in Blue-White. A similar (copper red) Jar is in the Shanghai Museum.
In 1998 I was commissioned by SPINK of London to prepare the Blue and White Porcelain from the Pullan Collection for their November "Exhibition for Sale". My task included the conservation and restoration work on all the 66 Blue and White porcelains.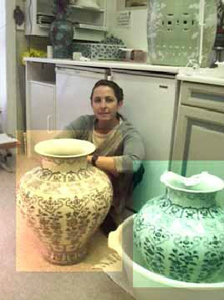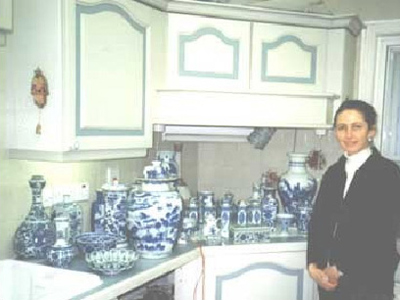 This is a partial list of other Clients for whom I have restored objects in the past:
A and J Speelman, LONDON
A La Vieille Russie, NEW YORK
Alistair Sampson Antiques, LONDON
Anita Gray, LONDON
Ben Janssens, LONDON
Brian Harkins, LONDON
Brian Page, BRIGHTON
Christie's, AMSTERDAM
Christie's, HONG KONG
Christie's, Kings Street, LONDON
Christie's, South Kensington, LONDON
Cohen & Cohen, LONDON
David Batie, LONDON
Eileen Lesouef, PARIS
Eskenazi Ltd., LONDON
Galerie Bork, COPENHAGEN
Garry Atkins, LONDON
Gerard Hawthorn, LONDON
Gimpel Fils, LONDON
Halcyon Days, LONDON
Jan van Beers Oriental Art, LONDON
Jeremy Ltd, LONDON
Jonathan Horne, LONDON
Jonathan Tucker Antonia Tozer Asian Art, LONDON
Jorge Welsh, LONDON
Kenneth Davies, LONDON
Knapton Rasti Asian Art, LONDON
Maifair Gallery Limited, LONDON
Michael Goedhuis, LONDON
Oriental Arts (UK), LONDON
Pelham Galleries, PARIS & LONDON
Phillips, LONDON
Ray and Victoria Tregaskis, SYDNEY
Roger Keverne, LONDON
S J Phillips, LONDON
Simon Ray, LONDON
Sotheby's, LONDON
Spink and Son, LONDON
Woollahra Trading Co., LONDON
Zhang Jianguo China-Porcelains, SHANGHAI
A small selection from my Portfolio is available on my
Portfolio Page
. If you have any questions regarding my previous work please
contact me
.